Punta Mita Resorts Experience
Whether you dream of a vacation filled with rest and relaxation or jam-packed action, the endless opportunities unique to Punta Mita offer something for you.
Golf
Home to two Jack Nicklaus courses, Punta Mita is a golfers dream!
Voted the world's #1 golf course, The Pacifico boasts the world's only natural island green in the world - the "Tail of the Whale" - an optional par-three 19th hole. The course itself is between 5,037 and 7,014 yards.
The second Jack Nicklaus course, Bahia, features six ocean holes and plays between 5,080 and 7,035 yards. Set in a more undulating terrain, Bahia offers stark contrast and putting challenges for those who wish to play more than one round.
From beginners to the experienced golfers, lessons are available to help fine tune your game.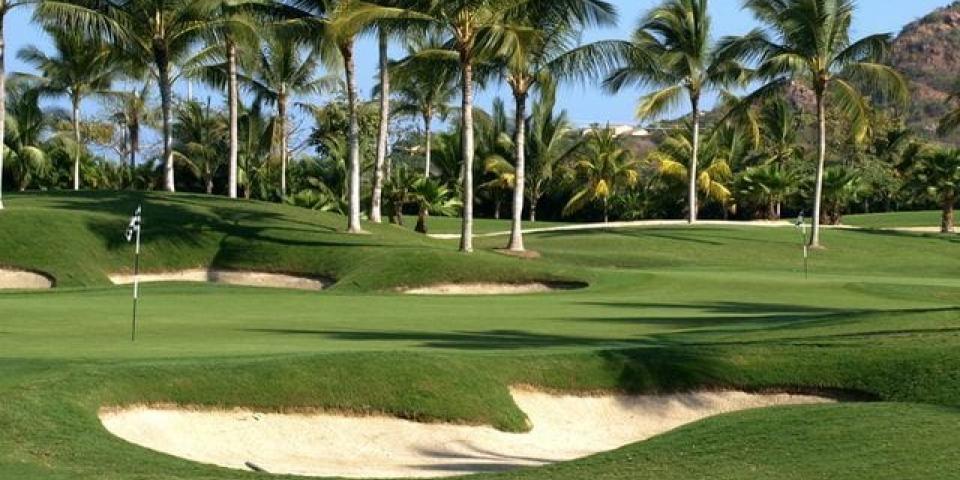 PACIFICO GOLF COURSE
BAHIA GOLF COURSE
Beach Clubs
Kupuri Beach Club is an expansive area encompassing an infinity pool and beach club services. Relax and enjoy the beautiful long sandy beach and shallow waters of Litibu Bay. It is for use exclusively for members with premier resort access and offers something for all - an air conditioned clubhouse for teens that includes video games, pool table, and other fun activities. There is also a kids club available with a shallow wading pool, spa services, and restaurant with food and drink service on the beach. Order Mexican fare and take pleasure in the day at the Punta Mita resort. Ther ocean sports program allows guests to rent paddle boards, boogie boards, sailing, and other water activities. Pacifico Beach Club - Just redone, this is the original beach club of Punta Mita - just down from the Four Seasons. Come here and enjoy the beach, sip a drink and order meals from the seaside restaurant. The beachfront pool is for adults and for children, there is a second pool and grassy area with a playground where kids can frolic. Sufi Beach Club - Cool off in the salt water pool and grab a bite at the palapa shack from Sufi Restaurant. Sea Breeze Beach Club - Located at the St. Regis hotel, this is a special spot to take in the views. Let the pool butlers spoil you with cool tools and refreshments. Order from the Sea Breeze Restaurant and Bar or the popular Mita Mary seafood boat. Please note that the St Regis does have restrictions based on capacity.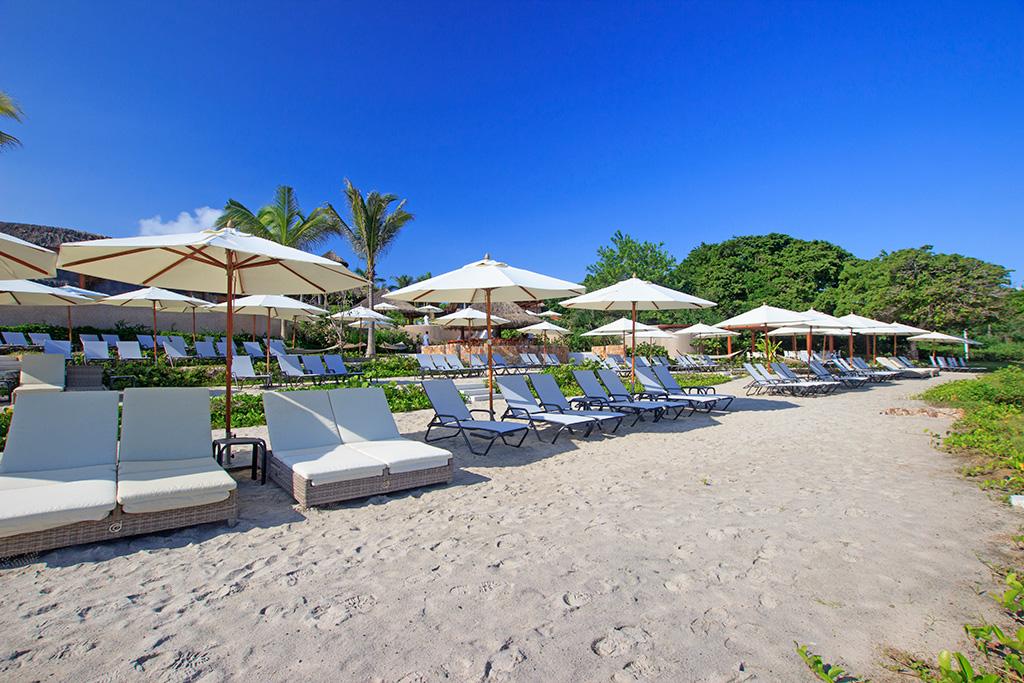 Kupuri Beach Club
Tennis
The Punta Mita Tennis Club, under the direction of Peter Burwash International, features ten courts – a combination of hard surface courts, clay courts, and synthetic grass courts and are lit for evening play. Complimentary ice water an chilled towels are provided for guest convenience. The tennis center has been rated by Tennis Resorts Online as one of "the top 25 tennis resorts in the world" and "Number 1 tennis resort in Mexico". Daily clinics and lessons are available.
Fitness Center
The Punta Mita Premier Fitness Center is available to premier members. It houses cardio and machine weight equipment and locker and shower areas. Use of the fitness center incurs a daily or weekly cost.
Surf / Stand Up Paddleboard
With over a dozen main breaks to ride the waves, Punta Mita is a surfer's dream. Check out breaks El Faro, El Anclote, La Lancha and others nearby to sharpen your surf skills. With breaks facing different directions, there is quality surf year round making Punta Mita the best spot in Mexico for surfing – from the beginning surfer to the most experienced.
Spas
Indulge in a day of relaxation at one of the spas in Punta Mita. The St Regis Remede Spa is over 10,000 square feet of treatment optios - sauna, steam room, salon, jacuzzi, cold plunge pools and relaxation gardens as well as outdoor treatment options under shady canopies. The Apanue Spa at the Four Seasons offers a full range of spa treatments as well. Appointments required. When at the beach club, rejuvenate with a beachside massage. Is it total privacy you crave? Ask us to arrange private spa services at your villa.
Water Sports
In addition to surfing and SUP, the local experts will guide you on the best spots to scuba and snorkel.
Fishing
Located at the northern tip of the Banderas Bay, the third largest bay in the world, Punta Mita offers some of the best fishing worldwide. Fish with the locals or charter a boat to go inshore fishing, big game fishing, or spearfishing. Various fish inhabit the waters, including grouper, amberjack, marlin, red snapper, wahoo, tuna, and more.
Whale Watching
Each year from December to April, humpback whales migrate south and are often seen in the waters. Private boat excurstions are popular during these months in hopes to see the majestic mammals.
Boat rentals
Experience Punta Mita from the water. From pangas to floatiing lounge catamarans to private yacht charters, a boat provides a new perspective of the area. Spend the day exploring the coastline and off the beaten path beaches. Or unwind on a sunset cruise and sip champagne as the sun disappears into the horizon.
Las Marietas Islands
The Marietas Islands are located approximately a 20 minute boat ride from Punta Mita and are home to an abundance of marine life. Uninhabited by humans, the islands were formed thousands of years ago by underwater volcanic eruptions. Home to more than 44 species of plants and wildlife and 90 species of birds, including the blue footed booby, this National Park is a treasure for nature enthusiasts. A hole in the surface of the lush island opens into the secret Hidden Beach. When sea conditions allow access, Hidden beach provides picturesque display of golden sand and jewel colored waters. The National Park is highly regulated in order to protect the ecosystem and has restrictions on visits. Ask about a tour operator who is up to date on current policies.